Hi everyone, sorry it's taken me this long to post my first entry. I've had M.E since 2004, and due to the recent heat and doing so much more than before (cooking healthy again after months of not cooking at all lol, trying to look after my garden in the sun, and looking after myself) I had the biggest energy crash this year. Despite all this I am happier than ever, because I've got the chance to be creative every day, and for that I'm grateful.
Anyways, a little bit about me. My name is Maria and I've had the beading bug since 2005, when to cheer myself up I suddenly found myself completely addicted to buying beads, findings, charms and tools off eBay whenever I had the chance. And then I started making earrings... lots of them! I even sold some later and used the profits for more beads!
These are the first earrings I ever made and sold, I called them the "Keys of Life Chained".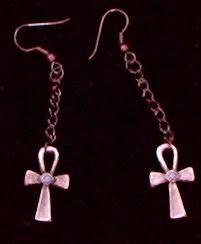 And now, 5 years down the line, I'm going beyond earrings and learning to make rings, bracelets, necklaces, chokers, beaded ornaments etc. And not only am I having loads of fun, but I have found beading to be the most therapeutic hobby ever:-)
So now my beading path meets up with all of yours... And so, I shall be back soon, with my first goal, and plans of just what I'll be using for my inspiration, been having a good think while I was resting up! Also, it's lovely to be here, I've been plucking up the courage to join for a few weeks now!
Have a great week everyone:-)